Shopping Cart
Your Cart is Empty
There was an error with PayPal
Click here to try again
Thank you for your business!
You should be receiving an order confirmation from Paypal shortly.
Exit Shopping Cart
| | |
| --- | --- |
| Posted on November 9, 2015 at 5:10 AM | |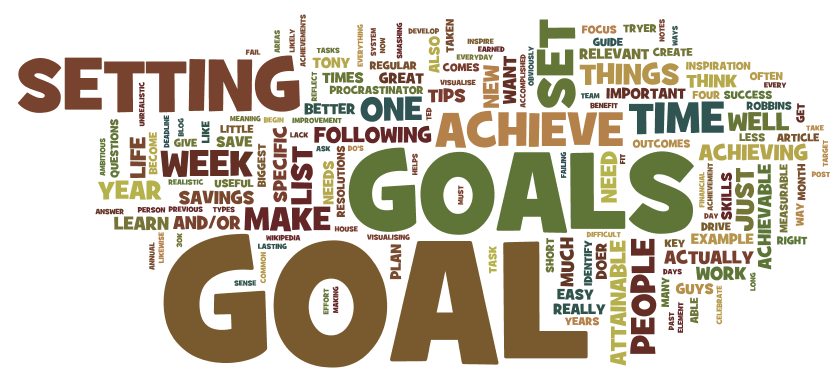 There's a very common pattern that comes with working towards goals that we're all familiar with: you set your mind to something, you get excited and work like mad, and then motivation starts to wane. Having goals that you can focus on and visualize helps you better connect yourself with your inner desires, and gives you the motivational energy you need to work through periods where your focus inevitably starts to wane.
Goal setting is a powerful process for thinking about your ideal future, and for motivating yourself to turn your vision of this future into reality.
The process of setting goals helps you choose where you want to go in life. By knowing precisely what you want to achieve, you know where you have to concentrate your efforts. You'll also quickly spot the distractions that can, so easily, lead you astray.
Good goals should have SPIRIT! Each objective should be broken down into several small, achievable goals that will help you get where you want to go.
The SPIRIT Acronym
Specific
Be specific about what you want or don't want to achieve. The result should be tangible and measurable. "Be a great supervisor" is pretty ambiguous; "Achieve a top rating in the Supervisory category on my next performance review" is specific.
Prizes
Reward yourself at different points in the goal, particularly if it's long-term. If your goal is to reorganize your office, for example, you might purchase a piece of artwork after you get the clutter cleaned out.
Individual
The goal must be something that you want to do. If your manager wants you to reorganize your office, but the layout works for you, you're not going to want to work towards the goal.
Review
Review your progress periodically. Does the goal make sense? Are you stuck? Do you need to adjust certain parts of it?
Inspiring
Frame the goal positively. Make it fun to accomplish. You could make a poster of the end result, frame it, and post it on the wall.
Time-Bound
Give yourself a deadline for achieving the goal. Even better, split the goal into small parts and give yourself a deadline for each item.
Categories: None
/